DroneMobile Blog
3 Reasons Why Your Phone is the Best Remote Starter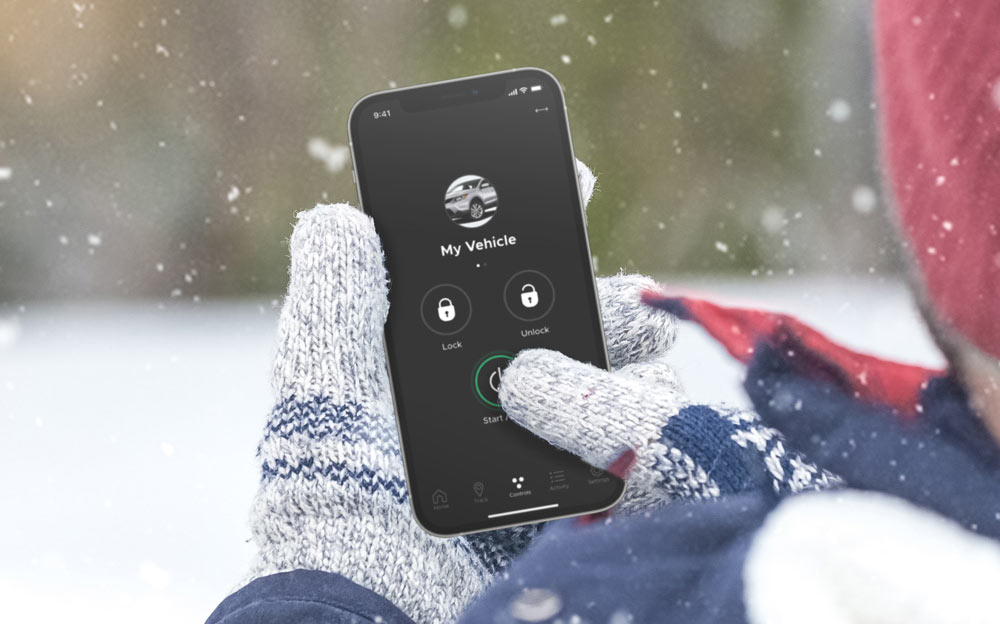 Winter and the holidays are officially upon us, meaning remote car starters are more valuable than ever. If you are shopping for a remote starter, you may be overwhelmed by the wide variety of options out there. 
In today's article, we will explore 3 reasons why the best option for your remote starter may already be in your pocket: it's your phone! Yes, adding DroneMobile to your remote starter transforms your phone into the most powerful system on the road.
---
#1: Unlimited Range Remote Start

Traditional remote starters have limited range, meaning you cannot start your engine from very far away. Even worse, if you are using your car's factory remote starter, your range is probably no better than 30-40 feet - not very useful at the store or office.
DroneMobile, on the other hand, uses LTE connectivity to connect your smartphone to your vehicle's remote start. "LTE", which has unlimited communication range, is the same cellular technology that our smartphones use to browse the internet and download apps. It's fast, reliable, and secure!
To connect your vehicle's remote starter to your phone with DroneMobile, you will need our "X1" LTE hardware. This hardware plugs directly into your remote starter and will give you the power to start and secure your vehicle from virtually anywhere in the world. That's what we call comfort and convenience!
---
#2: Improved Features Over Time

In the past year alone, the DroneMobile Team has released hundreds of improvements to the DroneMobile App. These improvements include Siri support, customizable control icons, and advanced geofences - just to name a few. All of these feature releases are included with your DroneMobile subscription and are available for free in the App Store! 
Our DroneMobile Team is absolutely obsessed with our customers' feedback, and we make sure to deliver the best possible user experience in the world. That's why we are so proud to have a 4.7 Star rating in the App Store!
4.7 out of 5 Stars in the App Store >
4.6 out of 5 Stars in the Google Play Store >
Imagine if your car manufacturer sent you a new key remote every week to improve your driving experience. That would be insane! But we believe it takes that level of obsession to make DroneMobile the best remote starter in the world.
---
#3: 24/7 Security Monitoring

The last reason your phone can be the best remote starter with DroneMobile is security. If you've purchased an internet-connected doorbell camera, you know how valuable it is to receive a push notification as soon as someone appears at your doorstep. While these notifications don't necessarily stop someone from intruding on your property, it is absolutely vital to be notified when there is a threat.
DroneMobile delivers a similar experience with 24/7 Security Monitoring and Push Notifications. In the event that your vehicle's alarm is triggered, you'll be immediately notified on your smartphone. The DroneMobile app can also provide additional detail such as the type of intrusion or the location that it occurred. 
---
Will DroneMobile Work with Your Remote Starter?
If you already have a Compustar, Arctic Start, NuStart, or FTX remote car starter or car alarm installed on your vehicle, all you need is our "X1" LTE hardware and subscription. Drone X1 adds cellular and GPS connectivity to your vehicle, allowing your smartphone to communicate with your remote starter from virtually anywhere.
Important note: DroneMobile does not work with your vehicle's factory remote starter.
---
How to Add DroneMobile Remote Start to Your Car
If you are interested in DroneMobile, the best way to start is to contact one of our Authorized Dealers. Use our Dealer Locator to find one near you. Authorized Dealers have professionally trained installers that can ensure proper installation of our systems.