DroneMobile Blog
DroneMobile XC Wins Best New Product Award at SEMA 2023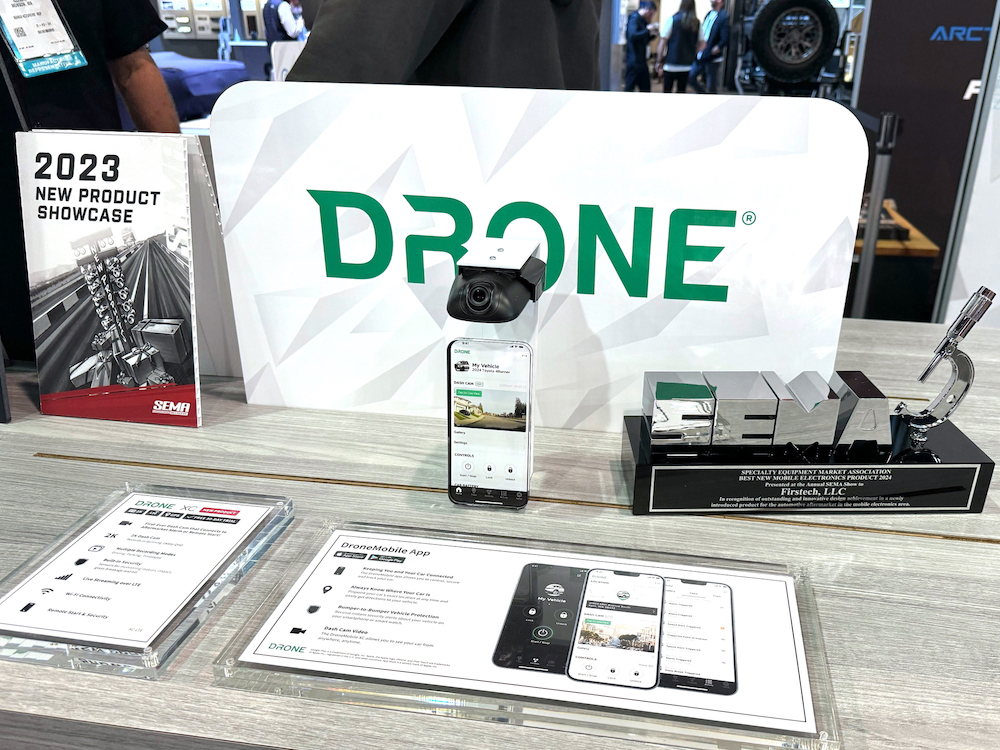 Las Vegas, NV: Firstech, makers of Compustar and DroneMobile connected car solutions, was awarded SEMA Best New Product for the upcoming Drone XC Dash Camera. Firstech's 1st place win was announced at SEMA's Kickoff Breakfast, along with winners in seventeen other automotive categories.
Firstech will be showing the DroneMobile XC Dash Camera along with the company's security and remote start product lines at SEMA in the North Hall of Las Vegas Convention Center in booth #10339.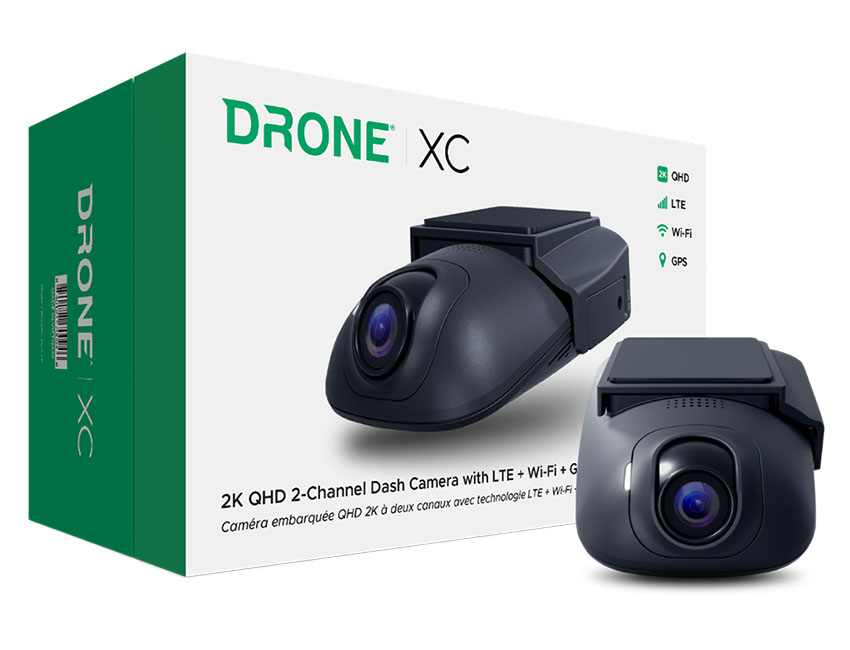 DroneMobile XC is the first-to-market dash camera to integrate with an aftermarket remote start and security system – giving drivers full visibility, control, and monitoring over their vehicle from virtually anywhere in the world. All of these capabilities will be available in a new update to the DroneMobile App for iPhone and Android smartphones. The retail price of the DroneMobile XC (part number: XC-LTE) will be $379.99 MSRP.
While an exact shipping date has not been announced, Firstech shares that DroneMobile XC will be available some time this Winter 2023.
To learn more about DroneMobile XC, please visit www.dronemobile.com/xc-lte-dash-cam. For questions, contact Firstech marketing director Justin Lee at [email protected].
---
SEMA 2023 New Product Award Winners & Nominees
Advanced Driver Assistance System (ADAS) Product
Winner: Ultimate ADAS, Hunter Engineering Company
Runner Up: National CDS 360 OEM Laptop, National Calibration and Diagnostic Solutions, Pro Mobile Scan, ADAS Targeting Solutions
Runner Up: AiDN, Diagnostic Network
Collision Repair & Refinish Product
Winner: Goliath Test Weld Stand, Goliath Carts
Runner Up: GUNI X Series, GUNIWHEEL LLC
Runner Up: KECO GPR+ System, KECO Body Repair Products
Electric Vehicle Product
Winner: 16-21 Tesla Model S NOVA-Series LED Projector Headlights, AlphaRex
Runner Up: Venom EV Conversion Kit, Scorpion EV
Runner Up: Plug-N-Play Digital Sound Processor Solution for Tesla Model Vehicles, Metra Electronics
Engineered New Product
Winner: Holley Easy Level Fuel Sender, Holley
Runner Up: BoostGate50, Turbosmart USA
Runner Up: Orangetop Hypercore Lithium Marine/RV Deep Cycle Batteries, OPTIMA Batteries
Exterior Accessory Product
Winner: BAK Industries – X4ts Truck Bed Cover, RealTruck
Runner Up: 2018-2020 Ford F-150 Sequential Turn Signal Animated Red LED Bar Tail Light, Spec-D Tuning
Runner Up: RADIANCE+ POD RGBW, Rigid Industries
Interior Accessory Product
Winner: 1978-1988 RGB LED Monte Carlo/El Camino Gauge Cluster w/IQ Signal Installation Module, Intellitronix
Runner Up: CURT Discovery NEXT Time-Delay Brake Controller, Lippert Curt Luverne Ranch Hand Aries UWS
Runner Up: Fanttik DynamicClean V10 Apex Pivoting Car Vacuum Cordless, Fanttik
Merchandising Display
Winner: NACHO POP Dealer Display, ARB 4×4 Accessories
Runner Up: HitchMount LED Pod display, Diode Dynamics
Runner Up: Green Filter Legendary Performance Now in Vibrant Colors, Green Filter
Mobile Electronics Product
Winner: DroneMobile XC Dash Cam with Remote Start Alarm Integration, Firstech, LLC
Runner Up: OPSIS by Stinger, AAMP Global
Runner Up: AI Dash Cam 4K + 1080p, Horizon Brands
Off-Road/4-Wheel Drive Product
Winner: 2022-2023 Toyota Tundra 6" Stage 9 Suspension System Billet
WITH SUBFRAME KIT, Icon Vehicle Dynamics
Runner Up: Advance Adapters Atlas Adapter for RAM, JEEP, Dodge 8HP Transmissions Part # 50-990X, Advance Adapters
Runner Up: Universal Recovery Mount, SeaSucker
Packaging Design
Winner: Formula Drift Premium Comfort Seat Cover, Horizon Brands
Runner Up: Katana Plus HVLP Spray Gun, Anest Iwata Americas inc
Runner Up: RetroSound Europa Radio, Retro Manufacturing
Performance-Racing Product
Winner: Team Plus Wheel Turtle Pro, Team Plus
Runner Up: Dart Machinery Toyota 2JZ Engine Block, Race Winning Brands
Runner Up: Carbon TRc Intake Manifold, Performance Design
Performance-Street Product
Winner: Hyperformance Pistons, United Engine & Machine
Runner Up: Universal Hydroelectric Power Steering System, EPAS Performance
Runner Up: GM A/F/X Body Tall Hub Spindle, Ridetech
Powersports Product
Winner: NACHO Quatro Combo, ARB 4×4 Accessories
Runner Up: AMSOIL ATV/UTV Oil Change Kits, AMSOIL Inc.
Runner Up: 19+ Honda Talon UTV6 Front Brake Kit, Wilwood Disc Brakes
Street Rod/Custom Car Product
Winner: 4-, 6- and 8-Position Relay Panels, American Autowire
Runner Up: RnR Modular Drop Knuckle, Pyramid Optimized Design
Runner Up: Radiator/Water Pump Clamp on Compression -AN Fitting (-16AN or -20AN), CVF Racing
Tire and Related Product
Winner: Fanttik X9 Pro Portable Tire Inflator with Accessories All-in-one, Fanttik
Runner Up: Cooper Cobra Instinct, Cooper Tire & Rubber Co.
Runner Up: Baja Boss XS, Mickey Thompson Tires and Wheels
Tools & Equipment Product
Winner: SoloSwap Big Block Chevy Mock Up Engine Swap Dummy Blocks, Speedway Motors Inc.
Runner Up: TRAC TireJack/Roller Accessory Plate, TRAC/Tire Rotation Assistance Cart-Tire Jack
Runner Up: WheelWise Wheel Fitment Tool, Tire Fit Size Measuring Mockup, 5-Lug Metric, Speedway Motors Inc.
Van/Pickup/Sport-Utility Product
Winner: Aeroleaf for Chevy 1500, Universal Air Suspension
Runner Up: Exhaust Manifold Kit Dodge/Ram 5.7l Hemi
1500 DS/2500 DJ/3500 D2 2009-2018 & RAM 1500 CLASSIC DS 2019-2022, BD Diesel
Runner Up: Shellz – 2023 Ford Super Duty Trim Black-out Kit, ECOOLOGICAL
Wheel and Related Product
Winner: Defiant Wheels – DF06 – 20×10 – Dark Satin Charcoal, 4PLAY Wheels
Runner Up: TR29, Voxx Products
Runner Up: ICON ALLOYS | 17×8.5 ANZA, Icon Vehicle Dynamics